Everything is relative. It is hard to imagine that only a decade ago we were in high school or college. Those days seem like ages ago, right? But on the other hand you can recall that time you and your friends got so drunk you took the wrong train home and ended up five hundred miles from home. Or the first time you went to Disney. And your first kiss was.. how long ago? Isn't it weird how the brain tricks you in these things? How sometimes we say "Oh, how time flies!" but the next day "I'm so bored, only 4 more hours..
"?
Sometimes time needs to slow down a bit. It feels like the moment we close our eyes another month has gone by, and a month turns into a year and a year into a decade… Well, thank you brain. Your brain has the best intentions (of course) but it is the main reason why you might find time to be such a scary concept. For example, when you were nine and about to turn ten, those twenty nights until your birthday seemed like a lifetime. Whereas now, when you have to sleep twenty more nights before you turn a year older, it seems like no time at all. The reason why this happens is all thanks to your brain that measures time compared by the total amount of time you have been alive. The more you live, the faster time passes by.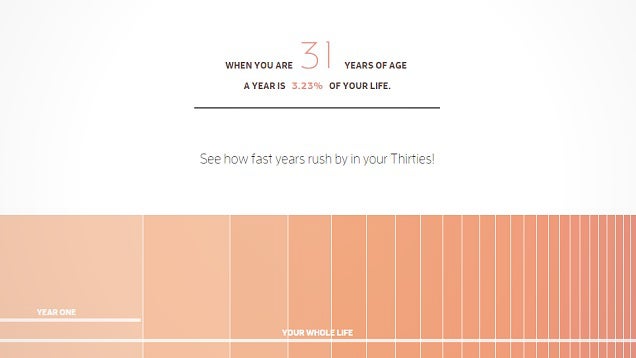 Maximilian Kiener
 created a presentation showcasing 
Why Time Flies
! In this online presentation you scroll through a timeline and the more years on the timeline, the faster you're likely to scroll though. 
The concept
 is very interesting and many scientists have devoted their studies to the concept of time. Our brain is a little less scientific and is basically saying
"Move along time is ticking!"
 (all in good fun of course). Why your brain likes to trick you is still open for discussion. Of course time doesn't really go by faster when you are thirty than when you were ten, it's a nice illusion your brain is creating for you. 
Maximilian
 hopes to make people realize that "later" may not be as "late" as you had thought it would be. Later will come but also will go.
"
Do not let your dreams stay dreams, act now not tomorrow
", says Maximilian.
It sounds cheesy, we know, but it does get 
the message
 across. So after you have shared this article with your friends and family, go out and live your life to the fullest! The white rabbit from Alice in Wonderland was right, time is ticking and you do not want to be 
too late
.