What would you say is your biggest hobby? Football, reading or maybe music? Well for the young fellow who recently got arrested for a supposed bomb it is making clocks. Yes, and as Obama put it: We need more people in America like Ahmed.

Fourteen year old Ahmed Mohammed from Texas has been very passionate about building clocks from a very early age on.
So, how did an innocent fourteen year old get accused of bringing

a bomb

to school? Well, for Ahmed it all started as a normal day: Nasa shirt, boring classes and a clock in his bag. Earlier this week, when asked what had happened,

Ahmed told

 the reporters he just wanted to show his project to his teachers: 

"I built the clock to impress my teacher, but when I showed it to her, she thought it was a threat to her. It was really sad that she took the wrong impression from it and I got arrested for it later that day."
Ahmed got interrogated at his school and was not allowed to contact his parents right away. He feels one of the worst things about it was being called names. He started to feel like a criminal after being accused of bringing a 'bomb' to school. He had previously experienced racism as a young kid. The minute the news broke the internet went crazy. A young passionate and talented young boy getting arrested for wanting to show his craftsmanship? No one could believe it and 
#
IStandWithAhmed
became a worldwide trending topic.
Some say his belief had a good deal to with
his arrest
. Ahmed is a Muslim. But now the conversation has shifted to the freedom of creation. Many say we should encourage young entrepreneurship and interests in science instead of treating it like a potential treat.
Ahmed got suspended and if it is up to him and his parents he will be transferring to a new school as soon as possible. When you look at the pictures of the clock that started this whole circus you may agree with the Irving, Texas Police Chief Larry Boyd.
The clock
did look a bit suspicious but in no way was there any evidence Ahmed intended to cause any harm. Luckily no charges were pressed against him.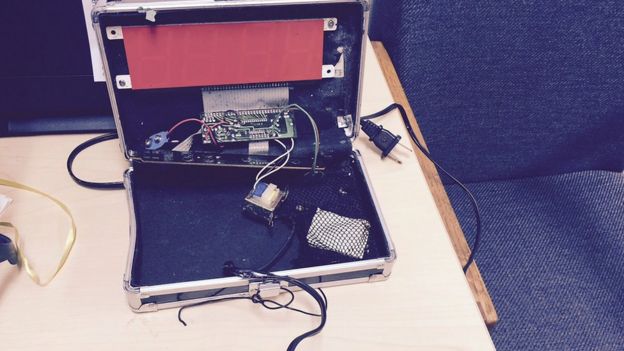 No matter which side you are on, Ahmed has found many supporters. Amongst his supporters are President Obama, Mark Zuckerberg and Robert Wilonsky. He has been invited to the White House and the Facebook headquarters. You go Ahmed! Let this awesome kid be an example of creativity and freedom.